Luxury Vinyl Plank Flooring
Luxury Vinyl Plank Flooring is an affordable flooring option that looks like wood. Being that it's vinyl, it is 100% waterproof and installs quicker than most flooring options which adds up to savings. Usually we replace baseboards at the same time as replacing the floors or we'll put in a base shoe mold to give it a finished look. Although you can install vinyl plank floors over existing tile, we prefer to remove existing flooring and starting from scratch. Vinyl plank floors would compliment a kitchen remodel or bathroom remodel well. If you're looking to replace your kitchen or bathroom that would be the time to upgrade the flooring and do it all at the same time. If you're just looking for floors, we got you. Reach out for an in home consultation by filling out our contact from. We look forward to hearing from you!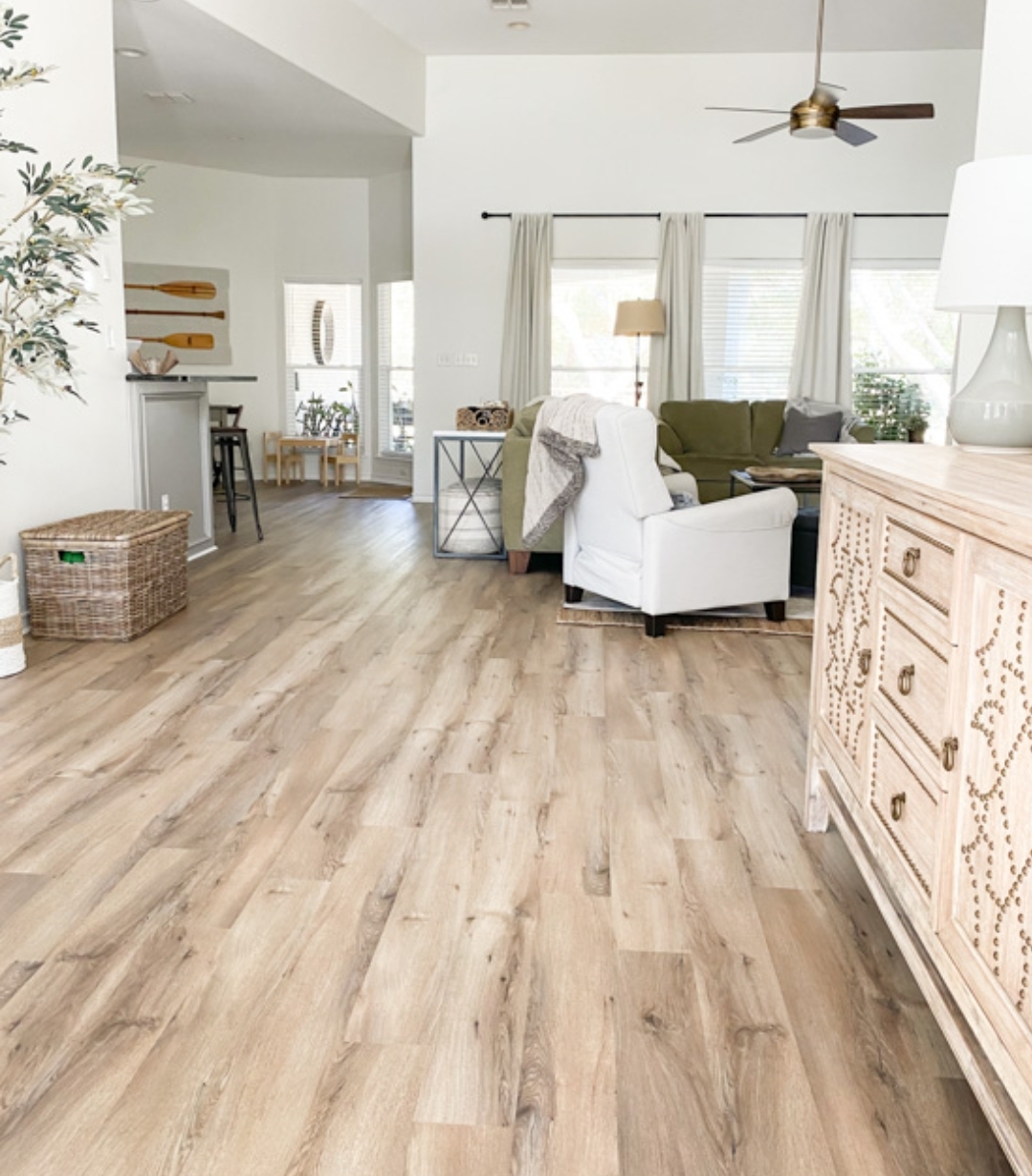 Epoxy Polyaspartic Garage Floor Coating
Sick of that nasty garage floor? Make your floors Mustache Approved today & give Mustache Approved Epoxy a try. The garage is the first room you enter when you pull in each day. Not only will it look great, it will protect and add value to your home as well. Give your garage floors a facelift by having us install a polyaspartic epoxy finish with a full flake broadcast. The polyaspartic top coat is UV protected and doesn't yellow like traditional epoxy coats. It's rather simple to get done, set up an in-home consultation, pick out your favorite color, we'll order your materials for the project, get you on the schedule, & complete your project within a 24 hour period.
Cabinet Painting
Looking to work with a company that does luxury cabinet painting? Look no further than the Mustache Approved Refinishing division, our professional factory finish prosses is second to none.
Cabinet painting/refinishing consist of painting or staining existing cabinets face frames, doors, & drawer fronts. When painting cabinets we go through a professional, tried and true process to get the perfect results every time. We use the top of the line products that once cured gives you the long lasting product finish that looks like it came from the factory that way.
When we paint the cabinets, change countertops, replace your backsplash, & install new appliances. It won't even look like it's the same home!
If painting your cabinets is the right option for you, we bring in our color specialist to help guide you to pick out the perfect color to match the color palette of your home. If you plan to save flooring or countertops our color specialist will steer you in the right direction so that it is a great match.
We have two options when it comes to cabinet refinishing.
Option # 1 Cabinet painting only:
After painting your cabinets, we would save your countertops, sink, faucet, and existing backsplash. Replacing appliances optional. This is a great way to give your kitchen a refresh without breaking the bank.
Option # 2 Full Cabinet Painted kitchen:
This is a full kitchen facelift which includes cabinet refinishing, new countertops, sink, faucet, & backsplash. This option will really feel like a new kitchen but for a fraction of the cost of a brand new kitchen.
Ask about upgrading your painted kitchen to a refaced kitchen by changing doors & drawer faces to new style as well.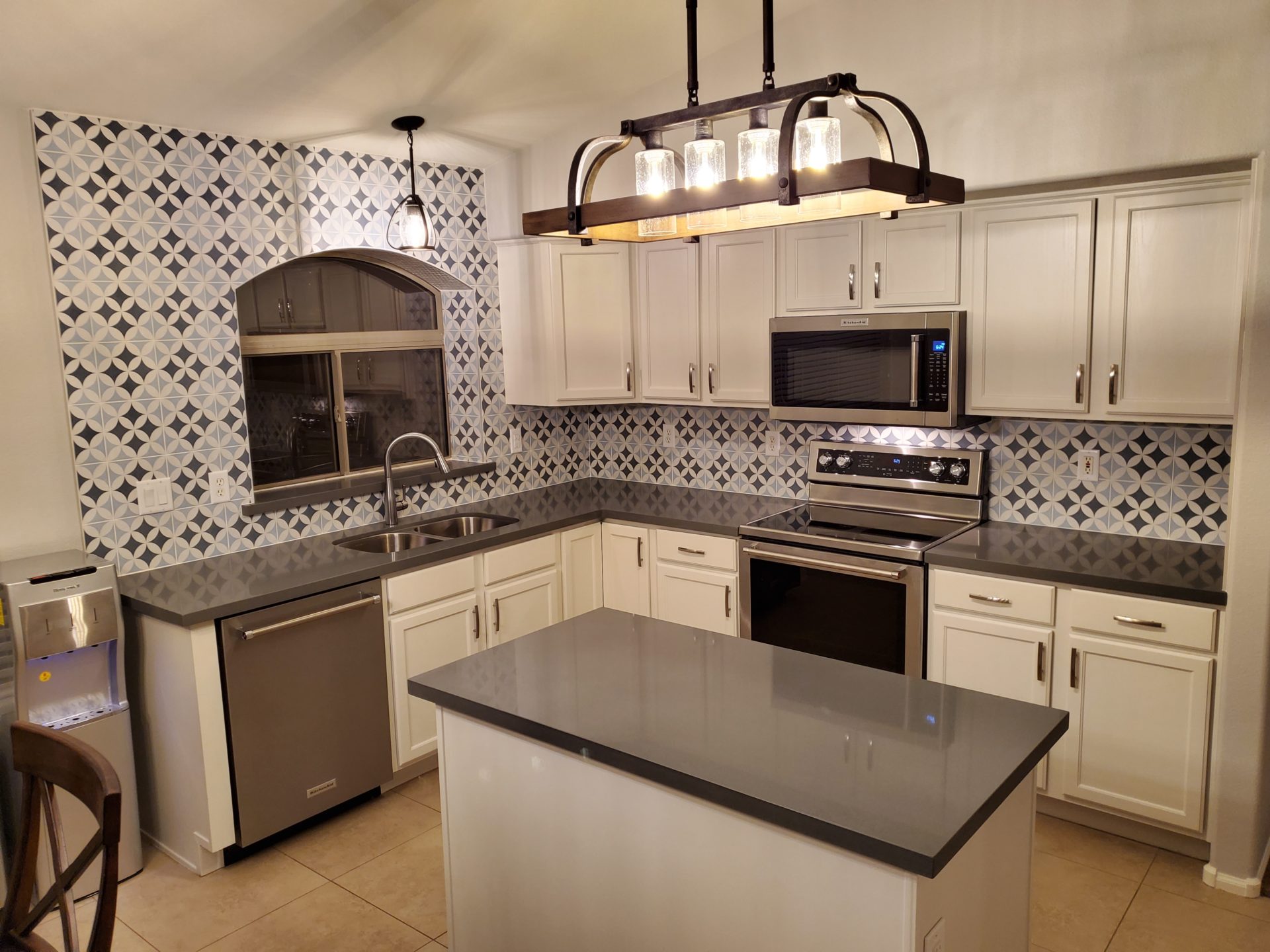 Cabinet Refacing
Cabinet refacing is a combo of replacing doors and drawers and painting/ refinishing cabinet boxes & face frames. See below for our three options for refacing.
Option # 1 cabinets only reface:
Upgrading from painting cabinets to a refaced kitchen consist of replacing existing doors and drawer fronts with a new style of doors and drawer fronts, replacing the drawer boxes if needed, refinishing the cabinet boxes & face frames to match the paint or stain on the new doors & drawer fronts.
We will also replace the door hinges and drawer glides with new soft closing hardware. (For all reface options). It will feel like a brand new kitchen at a fraction of the price of new cabinetry!!
Option # 2 Custom reface:
It would be adding some new cabinetry or changing the layout and refacing existing cabinets that remain. Sometimes customers want to change the upper cabinets to taller uppers and match the lower cabinets to the uppers door style. or installing a larger island but keeping the wall layouts the same. There are many ways to customize. Keep in mind, changing the layout my result in having to replace countertops.
Option # 3 Full Reface Kitchen:
This option would consist of refacing the cabinetry to desired door & drawer style. picking out color or finish, replacing countertops, sink, faucet, & backsplash for a full makeover.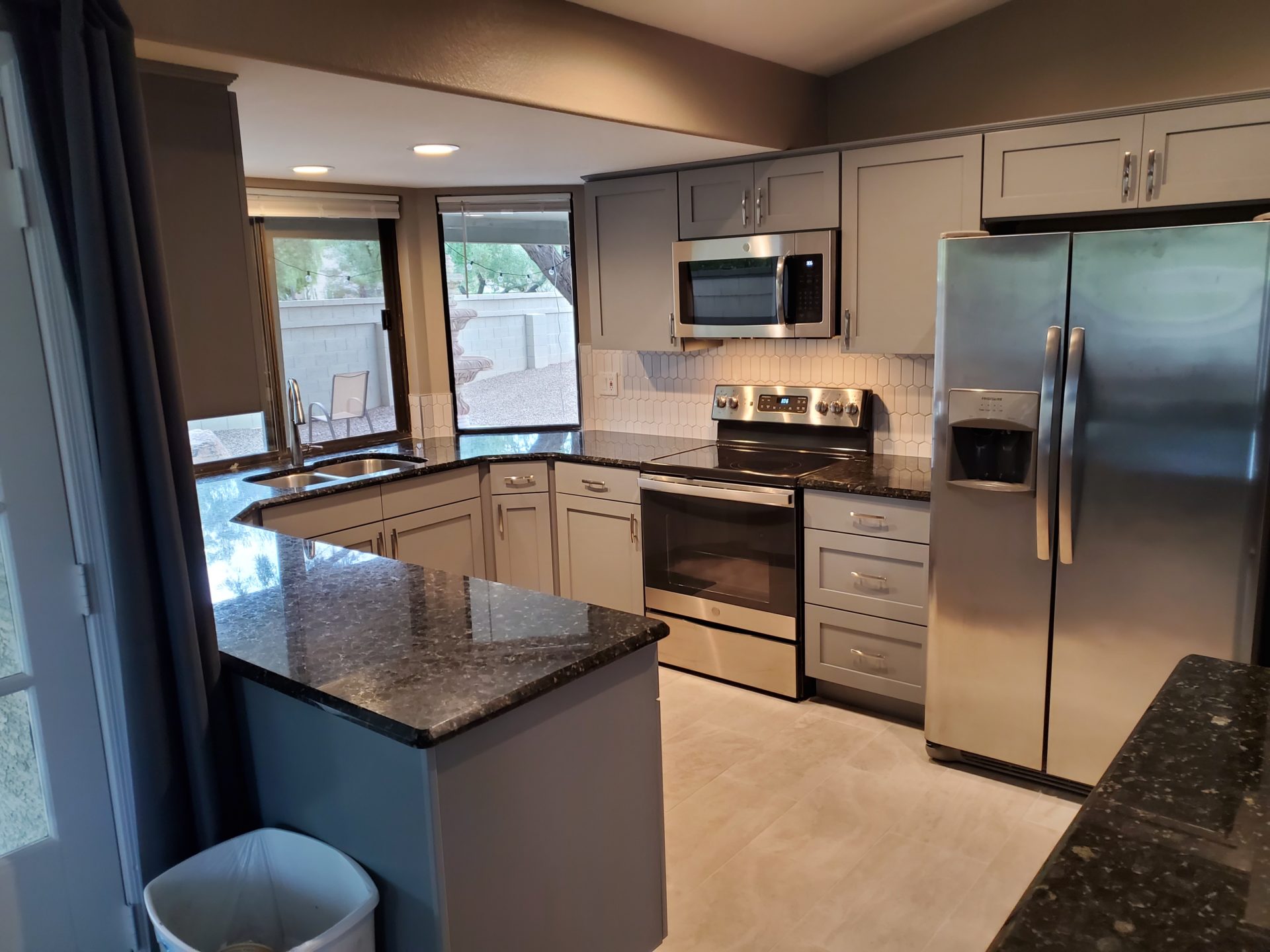 Kitchen Remodeling
Full kitchen remodeling is removing the entire kitchen & starting from scratch. We would remove and replace existing cabinetry, countertops, backsplash, sinks, faucets, appliances, & lighting and starting from scratch. Most of the time for cost purposes we try to save the same footprint. If you move your sink & appliances to different locations we have to move the plumbing and power sources to the new location. Keeping these items in the same location equals cost savings.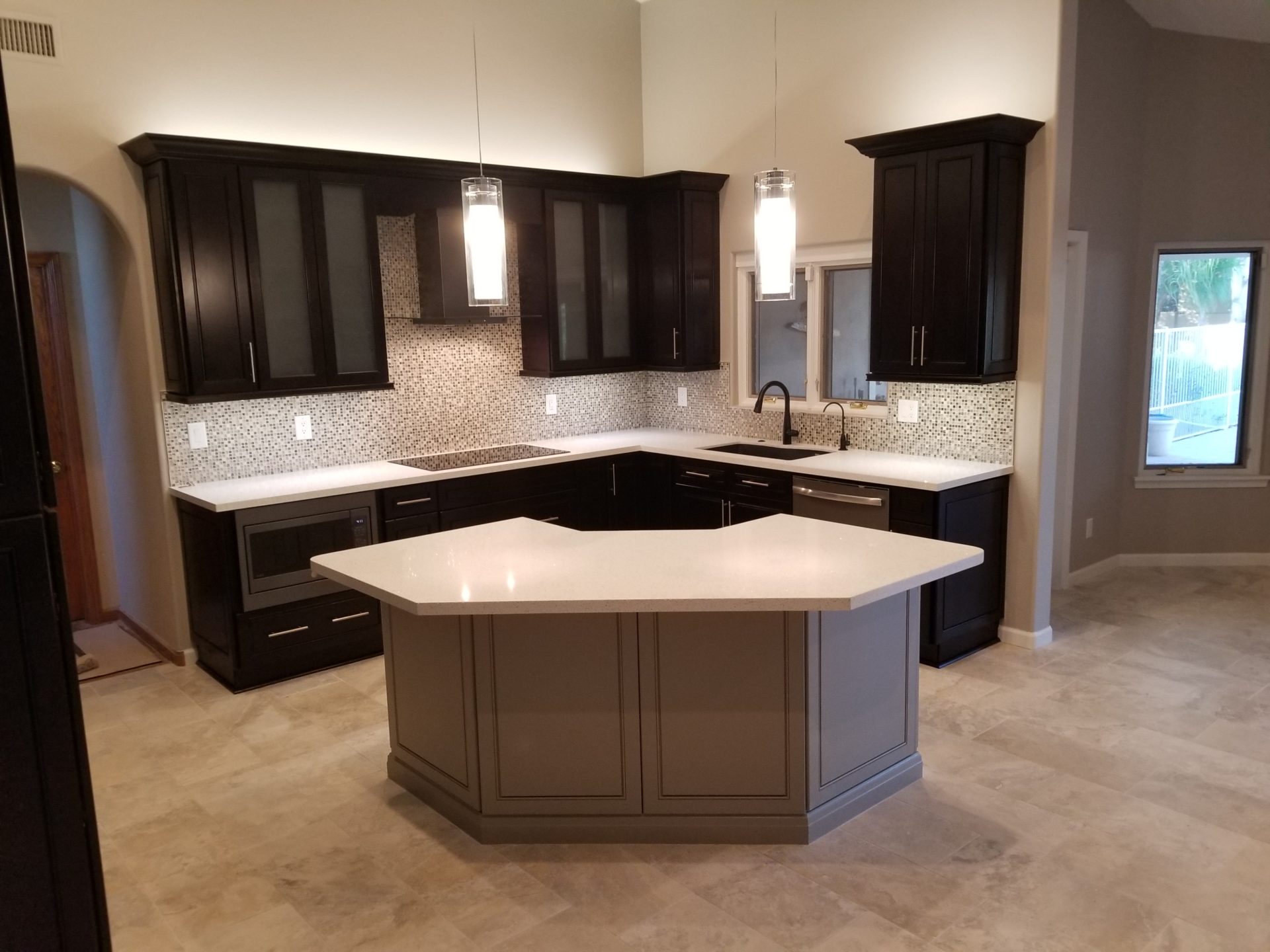 Bathroom Remodeling
Bathrooms are usually full remodels where we gut the bathroom down to the studs and replace everything from scratch. The products we use for showers are the top of the line thinsets and waterproofing systems which include Laticrete System (25 year manufacturer warranty) as well as Schluter waterproofing system (25 year manufacturer warranty). With these products we call it the S.W.A.N. plan "sleep well at night". We build bathrooms made to last that you'll enjoy for many years!
We can also do partial remodels such as:
• Tub & Shower conversions to large walk-in showers
• Vanity areas including vanities, countertops, sinks faucets, mirrors, & lights
• Toilet, Flooring, & Baseboards
Fireplace Refacing
Fireplace refacing can really make a statement and improvement in your home. It is the center piece of the living room & creates a nice ambiance to your home. We custom hand make the square faux beam mantels that we custom stain to desired color to match homes color palette.
We also install electric fireplace inserts as well that can be installed anywhere we can run the electrical to. It could be in a bedroom or living room.
Fill out the contact form for an in-home consultation.